Ok-We have the Schedule, ADI's, VMI's Done-Now Finishing the Publication
Posted: 2022-11-05 09:57:00 (CT) [ 296 views ]
Just a note...... to get NCAA Men's Basketball VMI off to an interesting start. Northern Colorado at 4800 feet elevation took a road trip to top 10 team Houston on Nov 7th -- tough task--but here's what makes it tougher. UNCO's VMI would be about -20 meaning their 3-pt'ers would be about 5 inches short of the center of the rim--the results were 23.8% shooting. Houston at 0 VMI being at home and obviously quality--results were 38% 3-pt shooting.

Nov 7 - UNCO VMI -20 vs Houston VMI 0 Results UNC0 3-pt = 5/21-23.8% Houston 11/29-37.9%

At home UNCO at about a +3 VMI shot 51.9% 4-days later against a lesser Texas team at a VMI of about +20 who shot 33.3%

Nov 11 - Tex A&M Com +20 vs UNCO VMI +5--Results TAMC 3-pt = 7/21-33.3% UNCO 3-pt = 14/27-51.9%

This scenario for all teams will repeat itself over and over again throughout the season, but of course, those teams who are best under the basket will always be standing at the end--it's basketball. But you can be ready for upsets if you understand the VMI.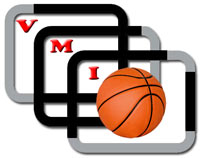 © 2021 Air Resistance Technologies, Inc., All Rights Reserved.

BasketballVMI.com, 1326 51st Avenue, Greeley, CO. 80634